On Saturday June 24th, we headed to the MTB/Gravel mecca that is Derby, in North East Tasmania for the AusCycling National Gravel Championships as part of the Devils Cardigan.
There was over 250mm of rainfall in the week leading into the event, with 100mm in the 24 hours prior, making for muddy and slippery course conditions – perfect for a bit of grav!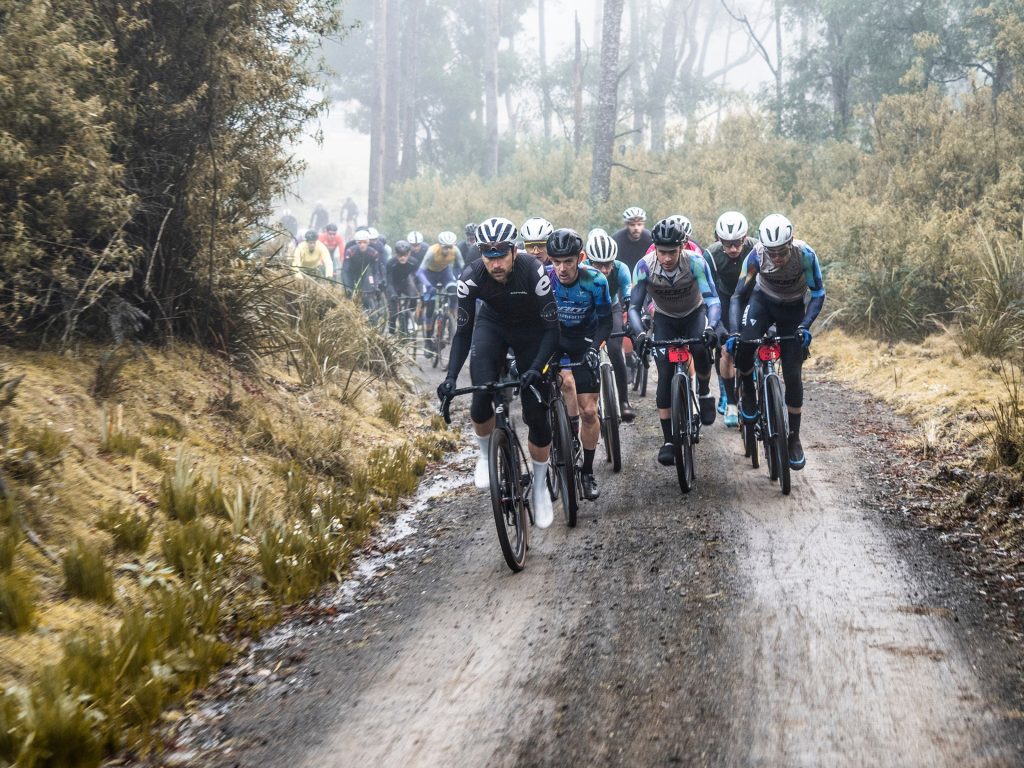 It was an incredible turn out with over 400 riders taking to the hills, as the short course took on Mutual Valley (8.3km @ 4.2%) and 1300m of climbing across the 54km. Whilst the long course of 106km and 2300m+ of climbing, saw the bunch take on three classified climbs, Mutual Valley (8.3km @ 4.2%), Ralph Falls (10.7km @ 5%), and the Un-named Climb of Hell (3.5km @ 8.1%). And by all accounts, it was a hellish time – see some riders share some thoughts later on.

See the course details here: https://www.devilscardigan.com.au/course-2023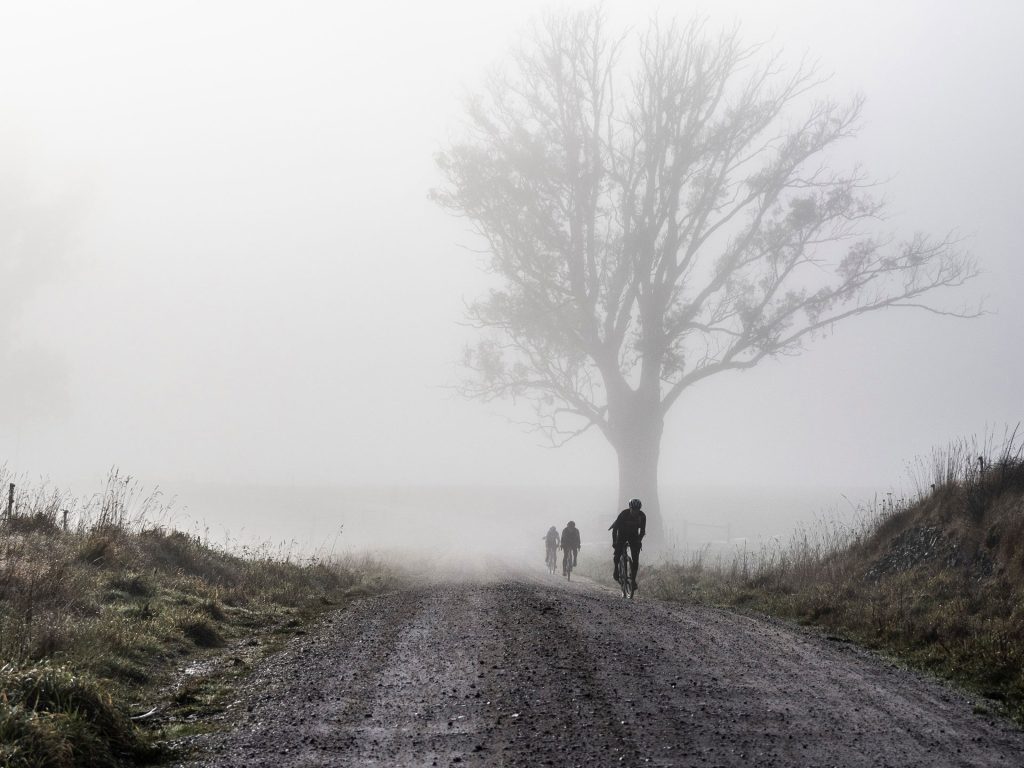 Burgh had a day out, with sponsored riders Justine Barrow, Peta Mullens, (Roxsolt Liv SRAM), Cassia Boglio (Privateer), taking out positions 1-3 respectively in the Elite Women, and Connor Sens taking the jersey in the Elite Males, and Caitlyn Brazendale winning the U17's.

See the full list of results here: https://www.devilscardigan.com.au/results

Here's what Simone Giuliani had to say about the event via Cycling News, on the 24th of June:

Justine Barrow and Connor Sens claim Australian Gravel titles as Alex Lack and Scott Bowden round out men's podium at Devil's Cardigan as Peta Mullens, Cassia Boglio take second and third in women's elite category.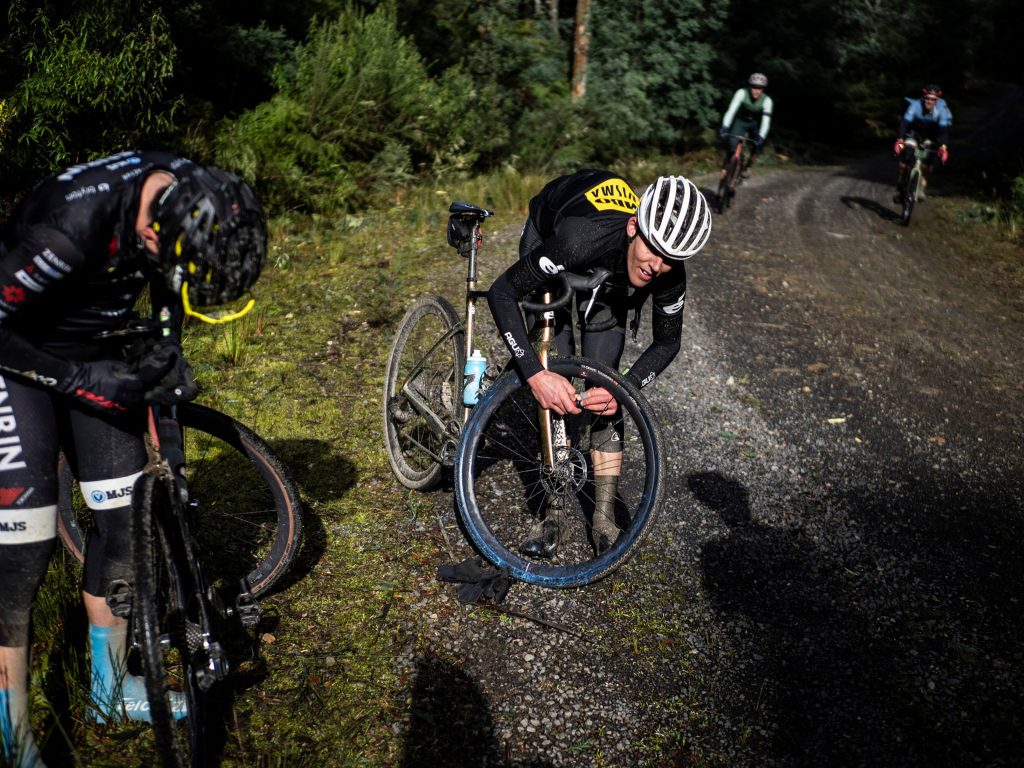 After a cold 106km on the remote scenic roads of north-eastern Tasmania, Justine Barrow (Roxsolt Liv SRAM) and Connor Sens (St George Cycling) claimed victory at the AusCycling Gravel National Championships, both heading over the Branxholm finish line solo after the ascent heavy course split the field apart.
For Barrow, it was her second time standing on the podium of a national championships – having come second at Road Nationals in 2020 – though now having claimed the jersey at the Devil's Cardigan the 44 year old will get to put it to good use.
"I'll be really proud to take the green and gold jersey back to the US and display it to the gravel world," said Barrow, who is almost immediately returning to the United States to continue tackling some of the toughest gravel races on the calendar.
Barrow, who last year took out the Beechworth Gravelista round of the UCI Gravel World Series and has been a podium regular so far in the US, finished in 4 hours and one minute. She completed the course just a little over one minute ahead of teammate Peta Mullens – who has a hefty haul of national titles across road, cyclocross and mountain bike racing –  after dropping Mullens on the final climb, roughly five kilometres from the line. Cassia Boglio (Pedalare) came over the line in third.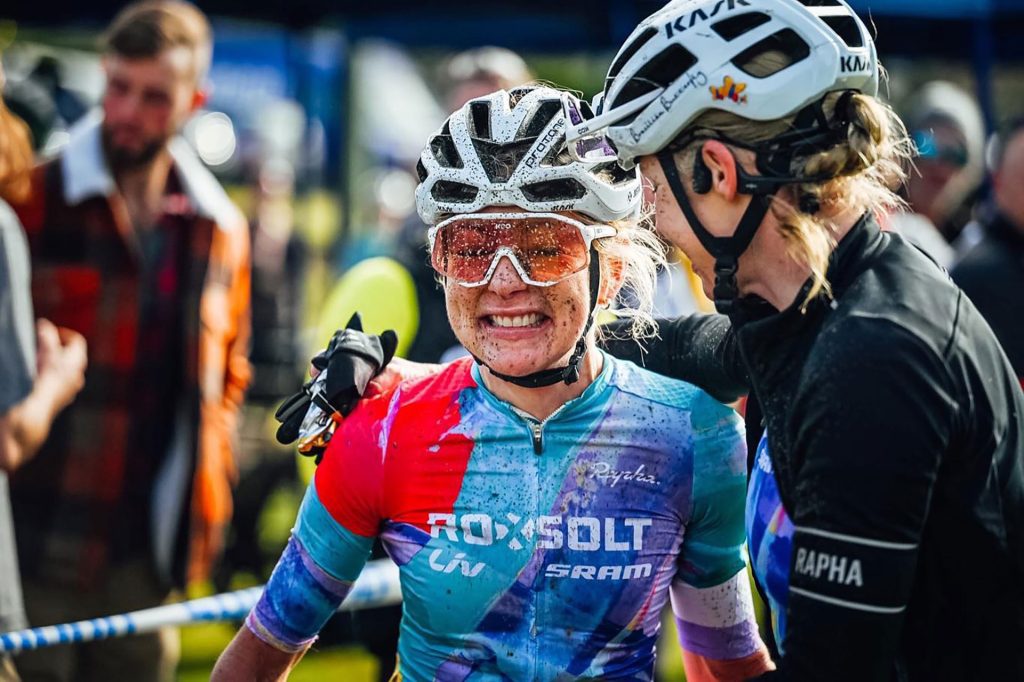 Sens took the men's victory in 3:36:01 with the rider from Bendigo accelerating away from mountain biker Alex Lack. Lack finished three minutes back after having escaped with Sens on the last climb but then got hit by cramps.
The race which started in Derby, had three main climbs – Mutual Valley (8.3km at 4.2%), then Ralph Falls 10.7km at 5% and the un-named climb of hell (3.5km at 8.1%) – but there was also a final nasty pinch peaking in the final kilometres before the line.
"That was so hard out there, especially the last 5kms, that climb," said Sens in an interview straight after the line put out on the Devil's Cardigan Instagram story. "There were some strong guys out there and at the start I was hurting so much that I wasn't even sure if I was even going to make it through the day … I did not expect this."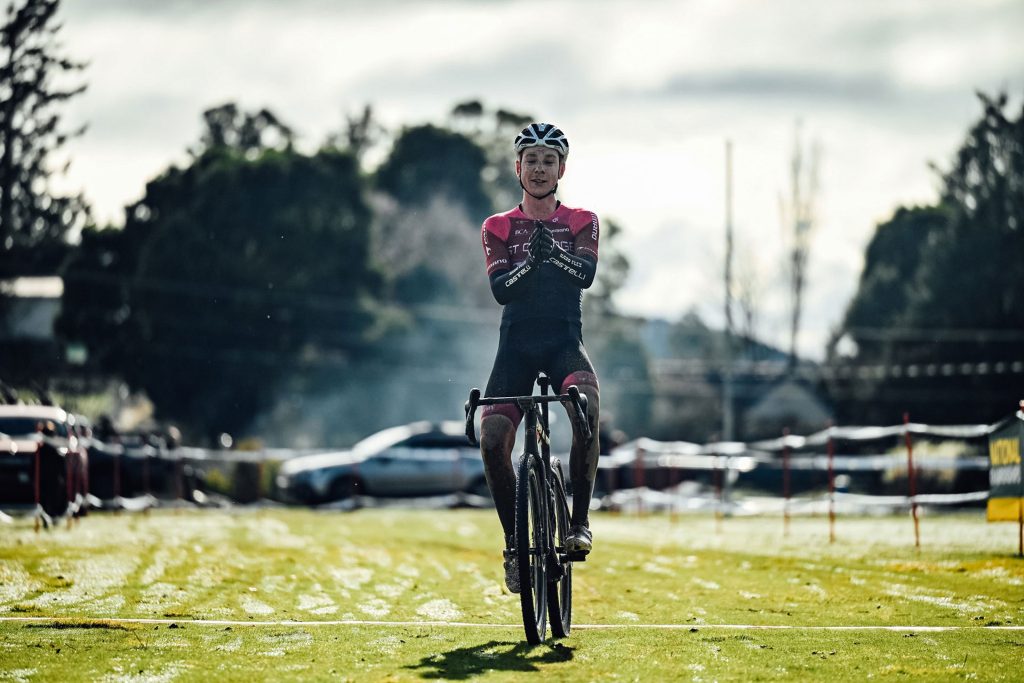 Scott Bowden, who represented Australia in both the road and mountain bike race at the Rio Olympics, finished third, charging over the line just ahead of Reece Tucknott.
Newly crowned champions Sens and Barrow succeed 2022 Australian Gravel Championship winners Brendan Johnston, who is currently racing gravel in the United States, and mountain bike rider Holly Harris.

The location and timing of the race, in the southernmost state of Australia during winter, always meant that it was going to prove a contrast to last year's Noosa race, held in the milder temperatures of Queensland.

In 2023 the temperature stood at 3°C when the race rolled out into the mist early on Saturday, but as the riders pushed on through the Devil's Cardigan course of temperate rainforest, waterfalls, low alpine shrubs and wide stretches of farmland the mist burned off to deliver a clear, sunny but still crisp, blue skied backdrop.

The competitors were faced with roads that had held up relatively well given the rain that had come before the event, but there was still mud being flicked up as they tackled the course with more than 2,300m of vertical ascent.
https://www.cyclingnews.com/races/auscycling-gravel-national-championships-2023/devil-s-cardigan-australian-gravel-championships/results/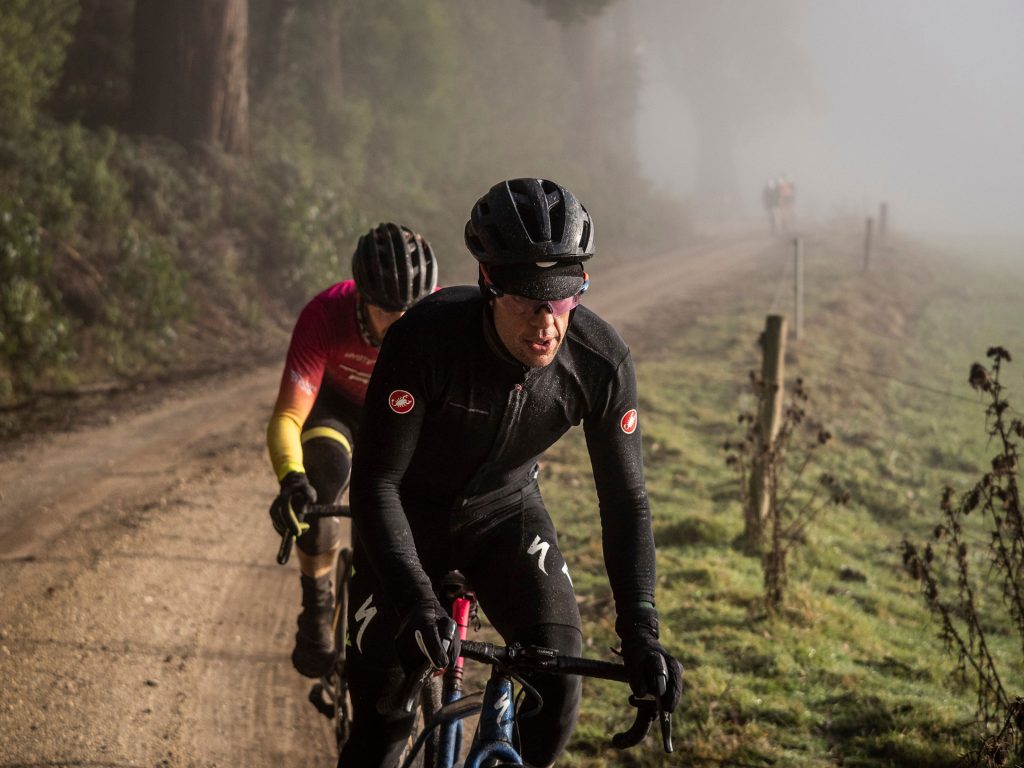 'A new level of suck' – Porte laughs off mud, cold of Australian Gravel Nationals – by Simone Giuliani, via CyclingNews
A retired Richie Porte had made it abundantly clear heading into the Australian Gravel National Championships on Saturday that this wasn't about racing for a title, with the retired road professional characterising it as 'something to enjoy'.
It's a certain type of 'fun' however, that comes from riding 106km with 2,300m of elevation gain on muddy roads in the middle of a Tasmanian winter, which the Tour de France podium placer of 2020 succinctly summed up after he crossed the line at the Devil's Cardigan race.
When the post-race interviewer opened the discussion with Porte by suggesting he had been heard saying when he came across the line 'that is a new level of cycling' the former Ineos Grenadiers racer was quick to make a correction.
"No I said suck, it was horrible" quipped a mud spattered Porte, a big grin on his face and soon to have a beer in his hand. "It was obviously beautiful, but gee it was hard."
The race which started in the mountain-biking hub of Derby, was punctuated by three main climbs, the early Mutual Valley (8.3km at 4.2%) then Ralph Falls 10.7km at 5% and finally the un-named climb of hell (3.5km at 8.1%) with maximum gradients of about 15%.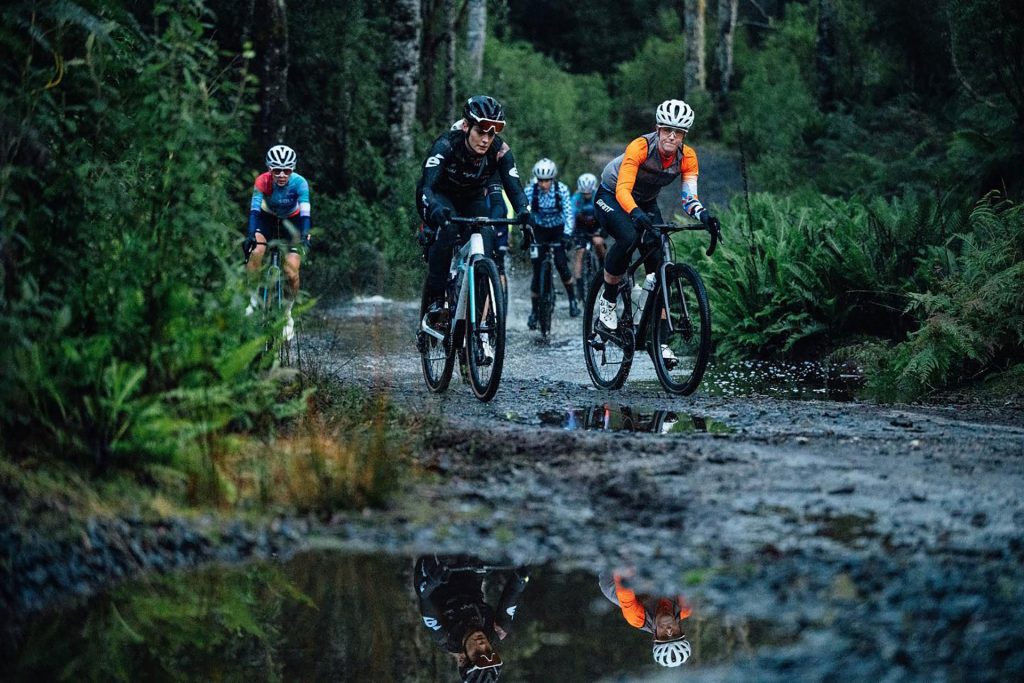 There was also a final nasty pinch peaking about 5km from the line. "I actually got off and walked some of it, it was that filthy," laughed Porte in the interview put out on race social media.
"It was great fun, what an event, it was some of the most beautiful terrain up there that I have seen," said the 38-year-old, who settled with his family little more than an hour away from the course in the north-eastern corner of Tasmania. "As hard as it was, it was absolutely brilliant, good camaraderie on the road and I guess that's what it is all about."
Porte came over the line in 22nd place, with a pre-race plan of rugging up and riding with friends as others raced for the Australian gravel title up the road.
Connor Sens took out the men's race while it was Justine Barrow (Roxsolt Liv SRAM) who swept up the women's jersey. Barrow will display the new jersey internationally before long as the rider who has also stood on the Road National Championships podium is returning to the United States to continue a five-month gravel foray in just a few days.

As for Porte, when asked if he'd be lining up again he was quick to respond.
"I don't reckon," he said, with an amused look on his face that as good as said he'd already signed up.
Riders Thoughts on the Devils Cardigan:
Fiona Morris – Maap Sixpence:
@__blonde___
Something about this race caught my imagination. Racing in the middle of winter in the Tasmanian wilderness – what could be more unpredictable…
I was excited to hit the gravel for 106 km and 2500m up. As we arrived at the first climb, I was already distanced from the front group. The calibre of riders was high and I knew I just had to ride my own race. As I pushed the pedals trying to stay in contact with the the group I was with… the time got away from me and I forgot to eat. It wasn't till we pushed right over the top, and onto the descent that I realised. Before long, I was at the second climb. My legs were not feeling super so I just put my head down and gave it what I had. I enjoyed the descents, and managed to take advantage.
The third climb came thick and fast – this is where things took a turn for the worse. It felt steep and unrelenting. My legs didn't want to turn and having tried to "catch up" on my nutrition might have been a mistake…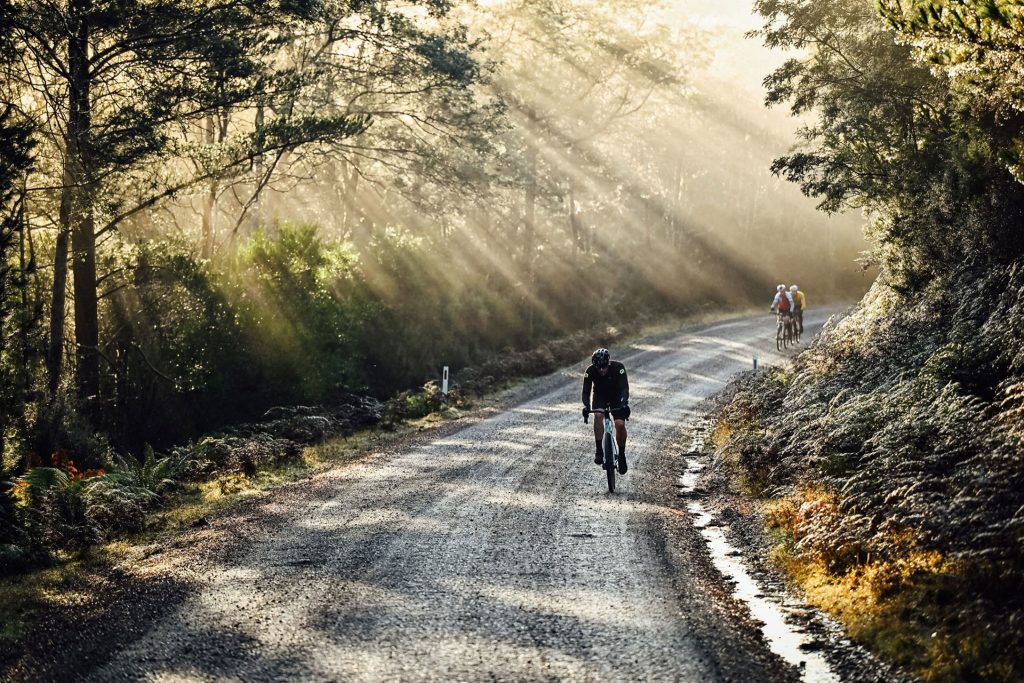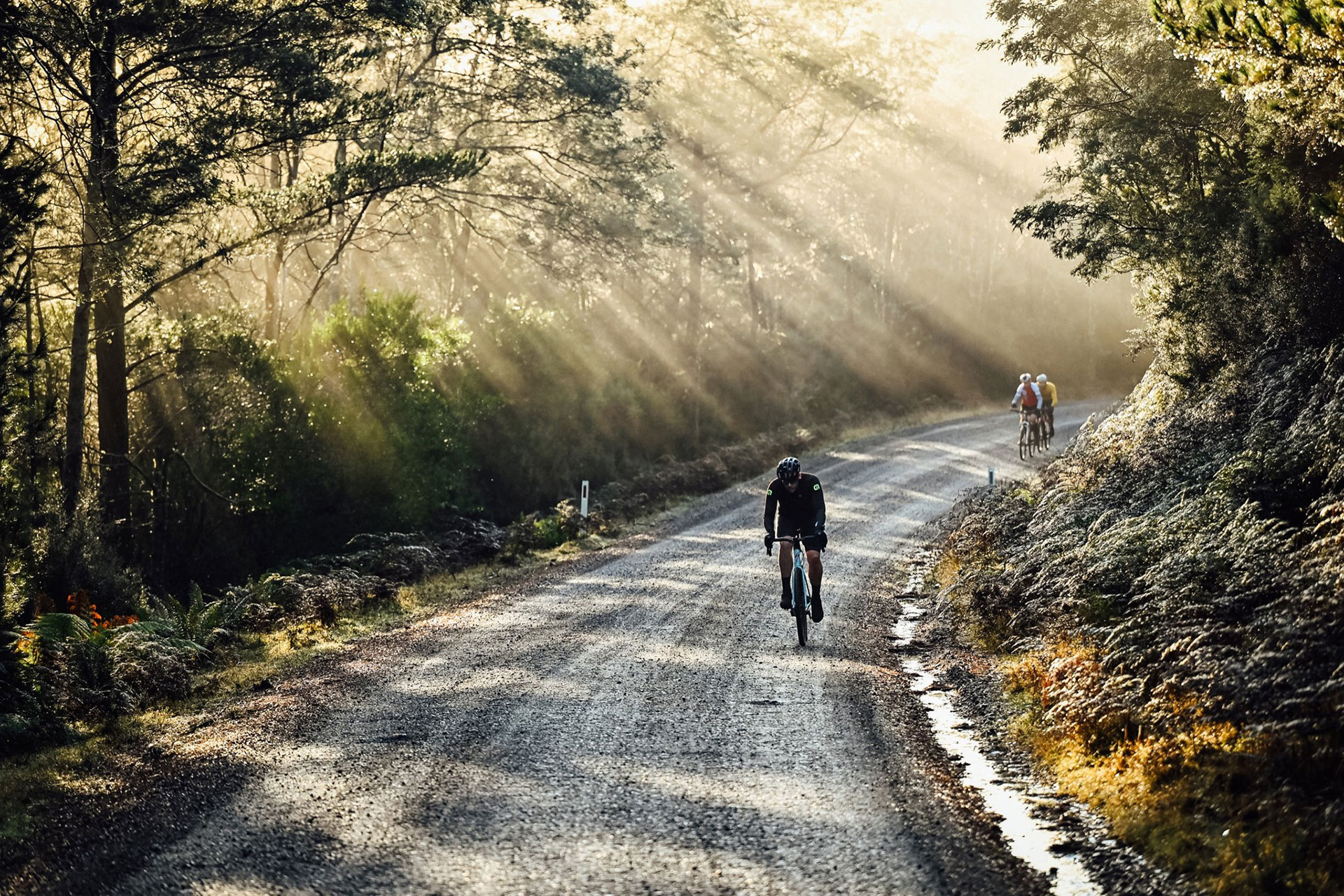 Once I crested, I knew it was going to be a slog till the actual descent with a rolling false flat gravel road stretching kms ahead and with a headwind – I'd been riding solo since the first descent and was really hoping to find a group to ride with. Eventually, a small group of three came past, and I jumped on the wheel. By this point, I had really cooked my nutrition strategy and couldn't hold down any food or liquid, but my legs were starting to come alive. A few kilometres later and suddenly @garrymillburn @chrisaitken and @doyletime appeared (a day of flat tires had scuppered their races) the group jumped on their wheel and we started to ride hard. It turned from a tough race into a standard chop off. Suddenly I was smiling and enjoying myself.
We got to the final little pinch, and I was feeling good again. It was wet, muddy and technical – people were walking sections. But I knew it was rideable – after a tough day out, it was the small wins.
I crossed the line in 9th and while it wasn't what I was looking for – I'm also not disappointed. I gave it what I had…. And I'll just have to come back next year. @thedevilscardigan

Peta Mullens – Roxolt Liv SRAM:
@petamullens
I never planned on going to Derby to race the 'Gravel Champs', I only decided to go when @thedevilscardigan invited @roxsoltlivsram to bring more depth to the womens field, and I thought that initiative was pretty damn cool 🙏
The course is a tough one; 106km with 2600m ascent! With a seperate women's start wave we enjoyed a more casual approach before we hit…
Climb 1 : Mutual Valley; 3km at 7% 14minI was dropped immediately. Teammate @justinelbarrow rode off into the far, far distance which turned out to be 90sec, while @cassiaboglio and @courtney.sherwell were also out of sight. I spent most of the climb chasing @britpetersen11 and @darcierichards_ and worked hard over the top to get a gap 😮‍💨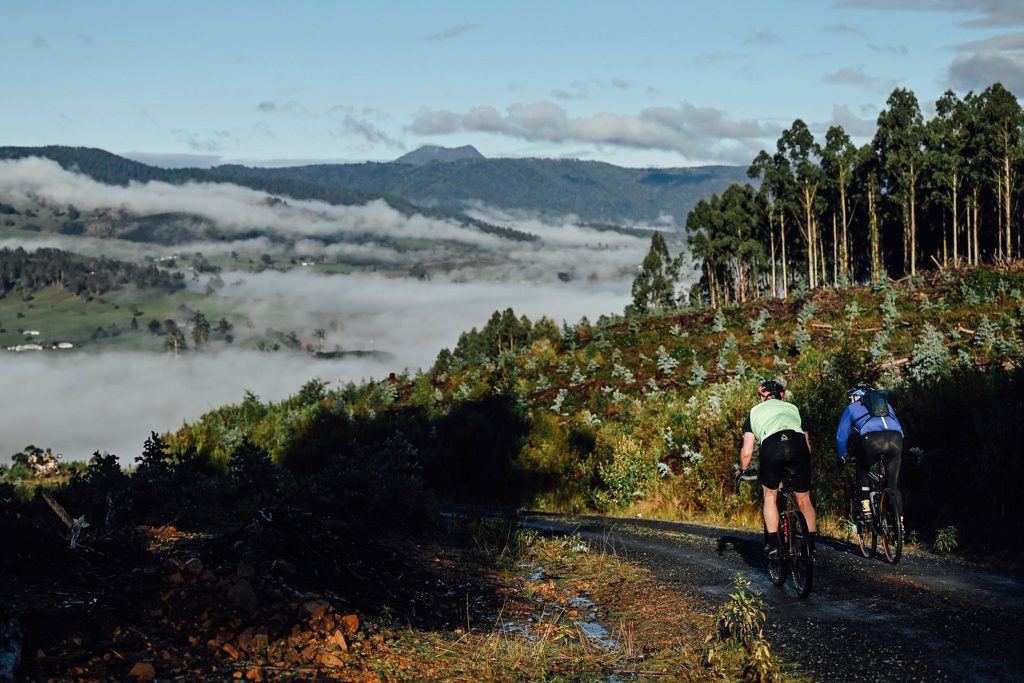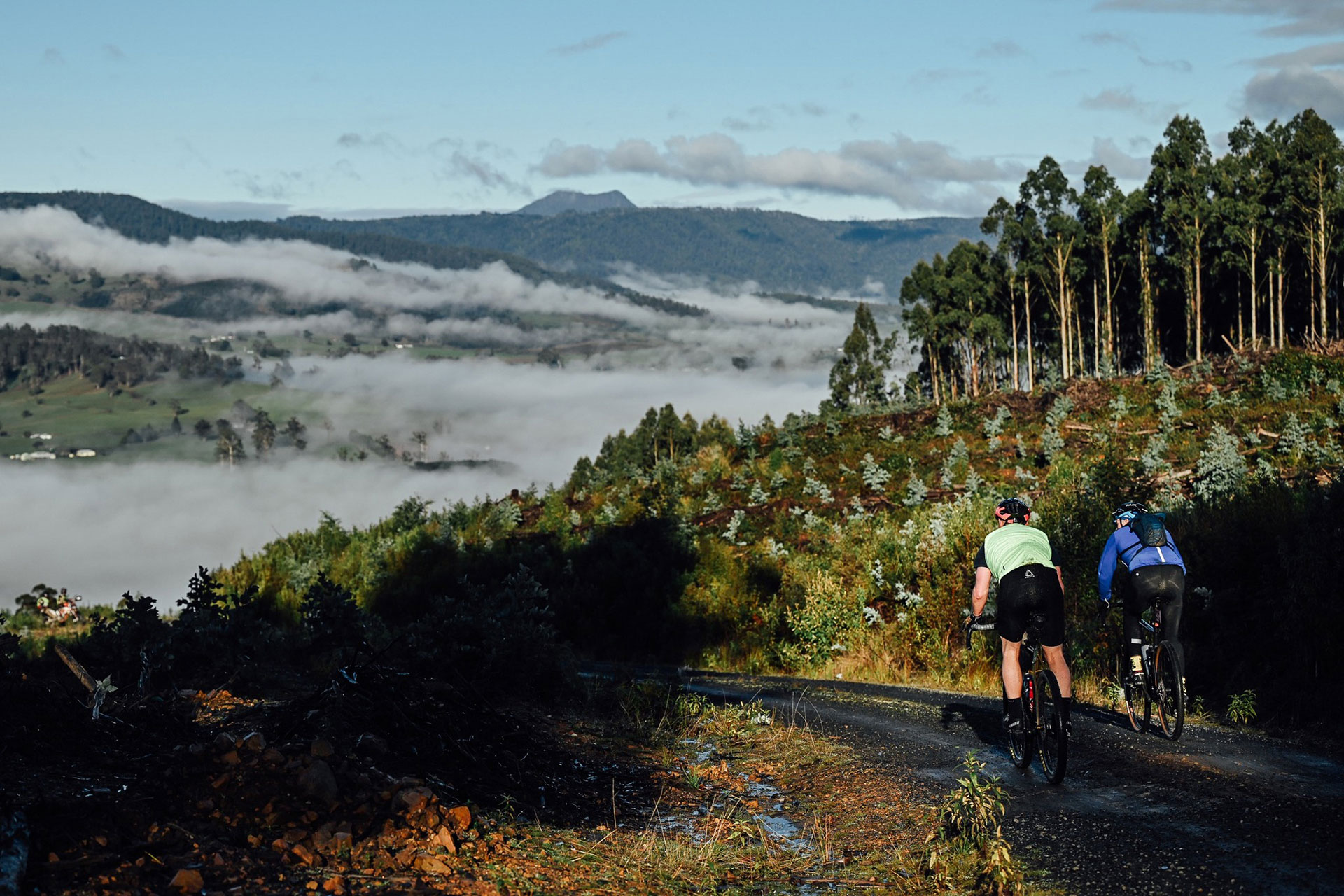 The climb was deceiving though because it kept going up for the next 11km on slighter slopes! Juzzy, Court and Cassia re-grouped after the descent and after a few kms of flat terrain I did too 😯 just in time for…
Climb 2 : Mt Victoria; 11km at 5% 40min
Again, dropped immediately. Juzzy gained 4mins on me, but a glimpse of Court and Cassia over the top just 1min ahead gave me a glimmer of hope! I pushed the descent, catching Cassia then Court, and kept the power down through the valley for the next 8km and all of a sudden I came up on Juzzy when we hit the base of…Climb 3 : Un-named climb of hell; 3.5km at 8% 19minYou guessed it, distanced again 😅 At the top, 40km to go, and the gap was 90sec as we started out on….The headwind plateau that went forever : 18km avg 0.5%No time lost or gained here. Juzzy found a group of guys and I had a single saviour in @daltonstretton (I did one turn for the camera) 😉 We picked her up when she was dropped on the descent and unbelievably I saw the front after 100km, deep in the title fight until…Climb 4 : Ruby Flats; 2km at 7.5% 9min
No points for guessing… dropped 😅 I guess my climbing tank was empty ⛽️ I lost 1min and it stayed that way to the finish.
So happy for Juzzy to take the title, but I can promise you I'll be bragging about my 'splimber' ride for a long time to come 🤯
Photo: @mason_hender
#BeBoldBeConfident🦋
#LivCOMMITTED#MoreWomenOnBikes
#SRAM#Rapha#RoxsoltLivSRAM
Keen on having a dance with the devil next year? Keep your eye on https://www.devilscardigan.com.au/